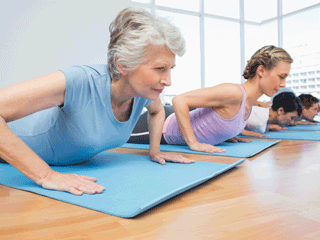 Pilates
Pilates focuses on 6 principles. Centring, Flow, Control, Precision, Thoracic Breathing and Concentration. There is an emphasis on the deep core muscles to strengthen the body from within and benefits include improving core strength, breathing, posture, flexibility and balance. Pilates can also have a positive impact on back conditions and back pain among other conditions such as arthritis.
my community classes are small group based so that I am able to tailor each exercise to suit the individual, taking into account medical history, postural deviations and Pilates experience.
Working with the same group each week also allows me to include progression for each person so that they become stronger and more flexible as they move forward on their Pilates journey.
Groups
Older adult Pilates
Beginners' Pilates courses and intermediate level classes
Men only Pilates stretch and core groups
Conditioning
My Tone up class uses small equipment like weights, exercise bands and balls to help tone and shape the whole body.
Creative Conditioning is my own brand small group class with a fusion of Ballet, Pilates and Core Strength mat based work.
Lift Lean
LIFT LEAN is a strength training and nutrition program devised to help you with your weight management, achieving a healthy food balance and improving your strength,your body shape, increasing your metabolism and helping to improve bone density. The course also includes a What's App group where I post daily recipes and help and support. Limited places per course.
Creative Conditioning
This is my own brand class. It combines a fusion of Ballet, Pilates and Core Conditioning to help improve body shape, posture, core strength and hip mobility. All exercises are set to beautiful calming music for a real mind body focus.There are only 16 places per course.
WHAT MY MEMBERS SAY